Founded by Michelle Keegan, Orfila Bee was born from her vision to create contemporary swimwear that embodied confidence, comfort and style.
The brand name is a celebration of her unique voice as Orfila, a family name, speaks to her Gibraltar heritage and 'Bee' affectionately nodding to her Mancunian roots.
Our Values
Inspired by the wanderlust of sun soaked days and balmy tropical nights, Orfila Bee collections offer glamourous, feminine swimwear with a contemporary twist. This versatile holiday style celebrates the female form using luxe fabrics and flattering silhouettes.
Designs are elevated with multi-wear functionality that empowers the wearer to create your own style, streamline your summer wardrobe and feel like your wearing a new piece every day.
Unleash your inner creativity and create a look to suit your mood.
Design Philosophy
Elevating swimwear in more ways than one.
As a response to the needs of the modern woman, Orfila Bee collections re-imagine traditional beachwear into statement pieces that can be worn in multiple ways that accentuate your features and make you feel good no matter what your body type.
The convertible designs can be styled in as many ways as you can dream up with high quality, textured fabric that takes you beyond the beach. Pair with a high waisted skirt and layer with jewellery for those evening dinner plans or a pair of jeans and a sun hat to meet your girlfriends for brunch.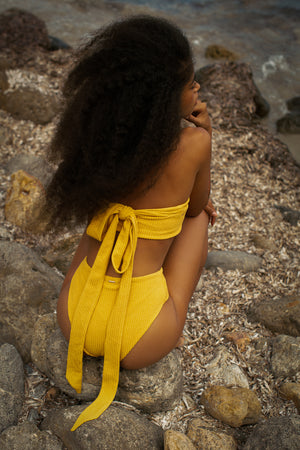 Orfila Bee is committed to positive environmental practices. The designs are timeless, made to last beyond the season so you will have your piece for a lifetime.
Contrary to throw-away culture, this thoughtful approach to construction gives the opportunity to create multiple looks from one garment, reducing the chance of over-consumption.
In an effort to minimise waste, any fabric offcuts from the manufacturing process are made into scrunchies and gifted with every order of our Thalia bikini top.
Orfila Bee working towards being a carbon neutral company. We are not perfect, but we continually review how we can improve our practices and deliver the best end-product for consumers and the environment as possible.